Sigve's 1981 TE71 GT
One of two 'Norway new' Corolla TE71 GT.. 2TG 1600cc DOHC twin-sidedraft and Turbo!
---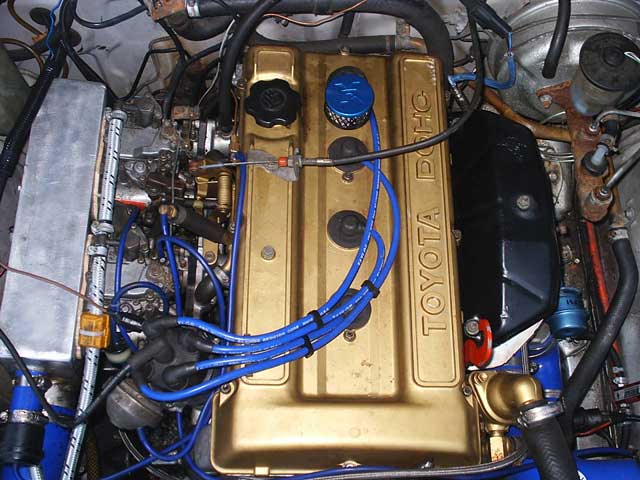 Sigve's using the factory fitted TE71 2TG with twin mikuni/solex 40mm sidedrafts, has bored the cylinders 1 mm to suit decompressed toyota pistons....(has taken 5mm off the piston crowns). using valve springs from a vw beetle....has bored holes in the carb jets to flow more gas fed by an electric fuel pump, Original setup had the standard 2TG exhaust manifold flipped upside down with a Garrett T3 turbo adapted to it! driving 1.6bar! A 3TGTE exhaust manifold is now being used with a new Schwitzer turbo fitted. He also has a water sprayer in the intake and extra electronics like a knock control to avoid detonation...

Sigve's 1981 mod TE71 GT.
Specifications:

Engine:
2T-G 1588cc DOHC 8v
86mm bore, stock Toyota pistons, machined 5mm to lower compression
Estimated compression is 7.2:1.
VW beetle valve springs
Stock crank and rods
Alum radiator

Intake and Exhaust:
Std Solex-Mikuni PHH 40mm sidedrafts with 170cc main jets
Custom made alum intake plenum, about 2 litre volume
Schwitzer SRX-350 turbo on 3T-GTE exhaust manifold
16 PSI wastegate control
Front mounted intercooler
JR open air filter
Has been using watersprayer in the intake earlier

Ignition:
MSD 5A box
MSD Blaster 2 coil
Top care capacitor on each plug to upgrade spark
Volvo turbo vacuum retard diaphragm on distibutor to pull ignition down to about 28 degrees on full throttle.

Omex launch control
JS knock sensor control

Transmission:
T50 5speed with 200mm Centerforce Dual Friction clutch kit
Stock T293 6.7" 4.1:1 LSD rear end
4 yellow Koni shocks

The body of the car is completely stock. In the plans are a foha front lip and a Volvo 360 back wing.
Interior is stock. Only using one recaro seat for the driver, holding a 14" racing steering wheel.
Running 1.1 bar turbo boost on street and 1.6 bar boost on the strip, then it should be about 270-300 hk.
Sigve has been running this setup for many years, and the car has been working really well.